Description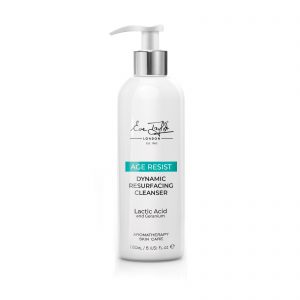 A highly active cleanser to thoroughly clean and resurface ageing skin. A Lactic acid complex exfoliates and renews the skins surface, defending against the visible signs of ageing, leaving skin fresh, soft and luminous.
Skin type/condition: Mature and ageing skin. Skin with sun damage and a thickened texture.
Hyper-pigmented skin and skin with uneven tone.
*Not suitable for clients who experience skin sensitivity.
*Avoid using if taking medically prescribed Ro-accutane/Iso-tretinoin or exfoliating medication.
Features & benefits: Exfoliating Lactic Acid complex intensively resurfaces the skin whilst offering a thorough cleanse. Brightens uneven skin tone and illuminates hyperpigmentation.
Increases epidermal cell turnover to defy the signs of ageing. Promotes superior skin softness with continued use. Soap free, mildly foaming formulation cleanses without drying the skin or breaking down essential lipids.
Key ingredients:
Lactic Acid – this multi-action super ingredient resurfaces and exfoliates the skin increases epidermal hydration, fights the catalysts of hyper-pigmentation and brightens uneven skin tone.
Argan Oil – rich in Vitamin E, essential fatty acids and anti-oxidants to ensure the skin remains supple whilst neutralising damaging free radicals.
Cotton Seed Oil – rich in Omega-6 and Omega-3 fatty acids it conditions the epidermis and imparts skin softness.
Squalene – a powerful humectant which boosts hydration levels in the skin and combats moisture depletion.
Geranium – a versatile essential oil which improves the skin and uplifts the senses.
How to use:
Dispense into dampened hands and foam with water into a creamy lather consistency. Apply to dampened skin and cleanse. Rinse with water.